Long ago, perhaps thousands of years in the past, a group of Polynesian islanders drifted their way through the unknown ocean (later named the Pacific), moving north from their previous island homes. We don't really know why they left the tropical paradise they'd lived on for many generations, maybe disease, famine, war, or just the urge to explore. They probably sailed double hulled canoes, packed with dozens of people, as well as food, water, crops, and livestock.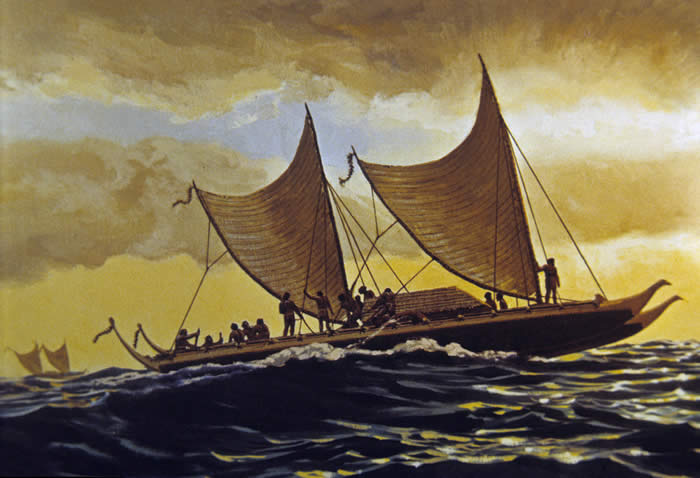 They had to bring everything they'd need to survive; they did not have a clue where they were going, or how long it would take to get there. The level of uncertainty of this voyage is unthinkable, and literally impossible, in our modern world. We know very little about these people, but we can say this:
Being students of the night sky, as they surely were, they would have noticed, one night, a peculiar star on the horizon. As they drifted North each night, the start rose higher and higher in the sky. While every other star in the sky made it's nightly rotation, this star remained fixed. For sea-borne navigators, with no other immovable navigational landmarks, this probably would have been celebrated. Of course, this star is Polaris, the North Star, and it is only visible from the Northern Hemisphere.
It is only visible when one crosses the Equator.
Many centuries later, and perhaps to this day, sailors the world over celebrate the crossing of the Equator. Seaman who have not previously crossed would be hazed, beaten, and sometimes tossed overboard to "celebrate" their passage into the world of true ocean-going hardmen.
The Southern Cross
Sometime on the night of January 22nd, 2011, I will lose sight of Polaris and cross into the Southern Hemisphere for the first time in my life, safe in the cabin of a jetliner at cruising altitude. Hopefully I don't get tossed overboard.
--------------------------------------------
This winter, my friend
Blake
and I will be headed to Argentina. We plan to climb all around Patagonia, that great mountainous region on the southern edge of the Americas.
I'm glad we don't have to use this map...

Some of the many towers of the Frey, above Bariloche, Argentina. We'll be climbing here at the beginning of the trip, and will hopefully be joined by our friend (and fantastic photographer!)
Forest
.
Photo by Rolando Garibotti
A few photos of the beautiful mountains above El Chalten, Argentina, including Cerro Torre and Cerro Fitz Roy.
A view of Cerro Pollone from the West, with the Donini-Crouch line marked up the West Pillar, and the summit ridge continuing to the summit. Hopefully, Blake and I will make it out there to attempt the first free ascent of the route, and potentially continue along the ridge to the as-yet-unclimbed Main Summit.


----------------------------------
Note: I didn't take any of the photos in this post. All were swiped off the interweb.